Presidential Debates Make a Mockery of the Democratic Process
By
Troy Senik
Wednesday, June 15 2011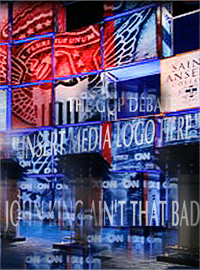 The media like to think of themselves as the arbiters of gravitas in presidential elections, forever weighing in on which candidates are 'serious' and which are not. Yet at the same time, they also create formats that prohibit the display of any sense of intellectual purpose.
Despite all the talk about the deficiencies of the Republican presidential field, there was a palpable sense of excitement around the campus of Saint Anselm College in Manchester, New Hampshire on Monday night, when seven announced GOP candidates gathered for the first major debate of the 2012 election cycle. At long last, Republican voters were ready to meet their candidates.
The forum, hosted by CNN, should have been notable for providing an introduction to those would-be presidents, who will dominate the news cycle for the next six months. Instead, it was most salient for previewing how severely the media will disserve the American public during that time.
The event was hosted by CNN's John King, one of an endless array of fungible cable news talking heads notable only for good hair and bad thought formation. Because imparting a sense of moral superiority is one of the only responsibilities that moderators seem to embrace in these events, King struttingly announced in the debate's opening that time limits on candidates' answers would operate on an honor system, free of the bells and buzzers that have cut off candidates in years past.
In theory, that was a worthwhile endeavor. There's nothing quite as demeaning as having your plan for Afghanistan interrupted by a sound that seems like it's on loan from a game show. But in practice, King became a human stop sign, attempting to interrupt the candidates seemingly from the moment they started answering questions. His rapid-fire grunts, issued whenever a candidate took a breath, became so irritating that criticism of King began trending on Twitter, with one user complaining that he "softly hooted" throughout the entire debate.
King's tic was annoying on the merits, but it had metaphorical significance as well. The media like to think of themselves as the arbiters of gravitas in presidential elections, forever weighing in on which candidates are "serious" and which are not. Yet at the same time, they also create formats that prohibit the display of any sense of intellectual purpose. Like him or not, Ron Paul's fidelity to the teachings of Austrian economics represents a serious thread in American economic thought. The Austrian theory of the business cycle, however – even in its most truncated form – is incapable of being articulated in 30-second increments.
Then there was the choice of issues. While the economy was front and center, CNN didn't even see fit to address foreign policy (a concern of unique significance to presidents) until an hour and forty-five minutes into a two-hour debate. A few of the competitors got in brief responses on Libya and Afghanistan, but there was no discussion of issues as essential as terrorism, the rise of China, or the future of the NATO alliance (and this only days after outgoing Secretary of Defense Robert Gates gave a blistering speech implying that America's days of subsidizing European passivity were coming to an end).
Why would there be? After all, CNN had to leave time to discuss issues such as whether or not the Tea Party was crazy, whether Sarah Palin was a better choice of running mate than Joe Biden and whether or not Herman Cain would have Muslims in his cabinet.
Even those, however, seemed like discussions out of Plato's Academy in comparison to the insipid innovation King dubbed "This or That," in which he gave candidates a binary choice between pop culture icons. Rick Santorum was asked to choose between Jay Leno and Conan O'Brien (he said he didn't watch either). Michele Bachmann was given the choice of Elvis or Johnny Cash (she chose both). Newt Gingrich had to pick between "Dancing with the Stars" or "American Idol." Mitt Romney was challenged with whether he preferred spicy or mild chicken wings (his answer – "spicy" – was perhaps the most implausible of the evening). Tim Pawlenty was pressed on Pepsi vs. Coke. Ron Paul was asked to weigh the BlackBerry vs. the iPhone (a seemingly cruel question for the oldest man on stage). And Herman Cain was asked whether he preferred deep dish or thin crust pizza. And with that, John King secured his invitations to moderate debates for high school class presidencies throughout the nation.
We can't expect campaigns in a democracy to proceed with the regal bearing of an aristocracy. In fact, it's a positive good to have aspiring presidents getting their hands dirty among the people. But they still deserve better than debate formats that diminish them and disrespect the importance of the office they're seeking. It's a simple game of "This or That": John King's debate format vs. almost anything else. For the sake of the nation, let's hope it's the latter.
#CFIF
Center for Individual Freedom. based in Alexandria, Virginia, is a nonprofit, 501(c)(4) corporation that relies on private financial support from individuals, associations, foundations and corporations. For more information, please call us at 703-535-5836.
http://www.cfif.org
Founded in 1998, the Center for Individual Freedom (
www.cfif.org
) is a Constitutional and free-market advocacy organization with more than 250,000 supporters and activists nationwide. CFIF opposes over-burdensome state and federal regulations, as well as taxation, that impedes the evolution of the Internet and e-commerce. CFIF maintains
www.StopNetRegulation.org
, a website explaining Net Neutrality, why it will stifle Internet innovation and job growth, and how to get involved.