05.20.09 05:20 PM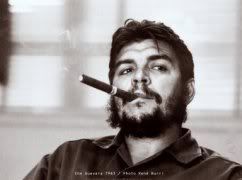 Imagine if a couple of women launched a "Hitler Spotting" website and proclaimed that they weren't Nazis but neutral about the morality of the subject. However, at the bottom of of the web page was this quote: "Sieg Heil!"
What would you think about the true leanings of the women despite their protestations of political neutrality? Well, change just a few details and we are describing Kelly Westhoff and Jen Paulus. Their "Che Spotting"
website
begins with this "disclaimer."
We are Kelly and Jen, and we are not Communists.

</p>
They aren't card-carrying Communists but, as you shall see, they are definitely misguided liberals as demonstrated in the very next sentence:
We are just two girls who went to Cuba and fell in love with Che. This is our story.

</p>
They go on to explain their bizarre obsession with spotting pictures of a certain hard core Stalinist in different parts of the world:
In fact, if we had an agenda, it would probably be travel. After all, it was a trip to Cuba that started all this and it was our shared love of travel that perpetuated it: We are travel junkies. Between the two of us, we've set foot in 32 countries so far.

In nearly every one of those, we have spotted Che. When we do, we take a picture.

We are amassing an impressive collection of these photos because, as it turns out, Che gets around. He is kind of like Coca-Cola or Nescafe. He is everywhere and we are fascinated.

So that's the story behind Che Spotting. Now get out there, go see the world, and spot your own Che. When you do, snap a picture and send it our way.

</p>
Oh, and* that web page concludes with Kelly and Jen's updated version of "Sieg Heil!"
¡HASTA LA VICTORIA SIEMPRE!*

</p>
Any lingering doubt as to where these two Che groupies are coming from can be resolved by reading this
interview
with them conducted by Eva Holland of World Hum travel magazine. Kelly Westhoff gives the game away early in the interview:
I think that Che symbolizes change, or "Che-ange."*

There was a Robin Hood mentality behind a lot of what Che wanted to do. He saw political, economic and social systems that he thought were crooked and unjust. He wanted to bust up the strongholds of the privileged elite and redistribute wealth, education and healthcare among the masses. What's not to admire about that? There are movements to do these same things going on inside the United States right now.*

Of course, how Che went about it might not have been the best, but his initial intentions were solid. I think this is where a lot of the confusion stems from about who Che was and what his image means. There is an inconsistency between what he wanted and how it came to fruition. Adding to this confusion is the romanticized image of Che as a carefree traveler, the young man before he got all wrapped up in politics and revolution. The movie version of "The Motorcycle Diaries" that was out a few years ago really fueled that view of Che.*

</p>
Of course, these not-so-neutral opinions about Che Guevara are shared by a large section of the mainstream media and the two "Che Spotting" girls are getting some "good buzz" from that group including this favorable
review
in the Los Angeles Times travel section:
Join the revolution! Participate in CheSpotting.com and make an adventure out of your next outing.

What's hot: CheSpotting is a home for fans of the Che Guevara image, and anyone can send in photos from around the world. It was started by two women who were on an educational exchange in Cuba. During that time, they found that the island was peppered with Guevara images. The postings caught their fancy, and they continued to pass photos of him long after their trip ended. Now they have put together a grand collection of Guevara photos, a roving image whose presence they compare to that of Coca-Cola. The site is humorous, fun, and I'm willing to bet that if you see a Guevara image on your next trip, you'll remember this site and be tempted to turn yours in, whether you see Guevara on a protester's T-shirt in Hong Kong or on a full-costume performance artist in Barcelona, Spain.

</p>
So what's not hot according to L.A. Times travel writer Jen Leo? The fact that Westhoff and Paulus are glorifying a hard core communist partly responsible for mass repression in Cuba? Nope. The problem is that the Che photos aren't big enough:
What's not: If you go to the "spottings" page to look for photos, you get thumbnails with nondescript titles such as "Che Spotting #3." It'd be so much cooler if we walked right into a slide show of big pictures or bigger thumbnails with locations in the header. As it stands, we have to click the thumbnail to get to the bigger photo, description and review of the Guevara spotting. I turned to the tags on the left side of the spottings page to view Guevara photos by theme or destination. It's obvious the site will become even more fun as the offerings increase.

</p>
Yes. So much fun to view the glorification of a totalitarian thug. Oh, and I wish to submit my own 'Che Spottng'
photo
to Kelly and Jen. It shows a Che Guevara flag hanging in an Obama campaign office last year.
H/T:
Babalu Blog
NewsBusters...